Confirmed! WAEC Official Release Date For 2022 BECE Results – 19th January, 2023
The West African Examinations Council wishes to inform the public about the date for the release of results for the BECEfor School and Private Candidates 2022.
Please kindly Share this Article on WhatsApp, Facebook and other Social Media Platform Using the Button Below. Thanks For Sharing🙏
Having successfully conducted the examination at 2,023 centres and completed Co- ordination and Marking exercises, the Council is far advanced with post-examination activities.
Investigations are ongoing into examination irregularity cases detected during and after the conduct of the examination. For a quick resolution of malpractice cases, the Council appeals to affected school authorities and candidates to respond with dispatch to its invitation. Candidates are informed that their refusal to honour such invitations shall not impede the Council from making a final determination on the cases in question.
The Council urges the public to disregard all information Circulating on social media indicating that the results have been released, among others.
The target date for the release of results for the BECE for both School and Private Candidates 2022 is Wednesday, 25th January 2023.
Parents and candidates should remain calm as the Council works towards the release of results.
What To Do As You Wait For The Results To Be Released?
Make sure to Buy your Waec results checker and wait for the results. See the shortcode to buy BECE results check here. Or Dial *800*055# to Buy.
Get your Index Number ready. Please make sure to have the correct index number because, this time, the results check is a little costly. Once you use the wrong number with the checker, you'll have to repurchase a new checker.
Subscribe to our push notification to be the first to receive the message when the results are out.
You can also join our WhatsApp Group/Telegram channel since we will update them once the results are in.
See the Official Statement From WAEC Below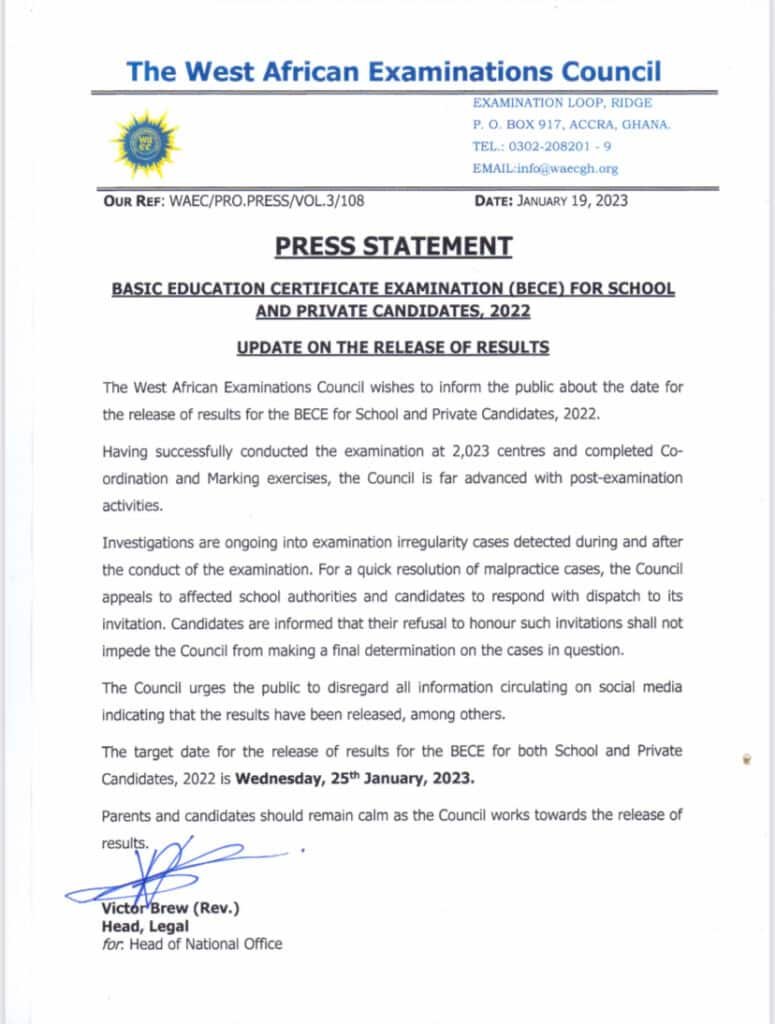 Recommended Post:
🎓Join BECE 2022 Preparation WhatsApp Group👉 JOIN HERE
🔥✔️
Join Our WASSCE 2022 Preparation WhatsApp Group👉 JOIN HERE
---
Thanks For Reading! Please share this post with your Family and Friends for them to also benefit.
Follow Us on Facebook ,Twitter and Instagram for More Updates!
Have an Article you want to be Featured on Our Site? Send it to [email protected]