GES New Update on SHS 1 Admission – 31st March, 2022
Management of Ghana Education Service (GES) wishes to remind parents,
guardians, students, and the general public that the admission processes for first years in all the Senior High/Technical (SHS/T) schools are going on smoothly.
Please kindly Share this Article on WhatsApp, Facebook and other Social Media Platform Using the Button Below. Thanks For Sharing🙏
All students who could not get any of their choices are advised to go through the SELF-PLACEMENT formalities and then proceed to the schools to go through admission processes.
Parents and the general public are to note that the admission process does not involve payment or collection of money.
School authorities are cautioned that under no circumstance should there be a demand for money that would hinder the admission process of any Placed Student.
Management of GES is reviewing all the guidelines on the COVID-19 protocols
and will in due course issue the revised guidelines. In the meantime, the Ghana Health Service recommends the wearing of masks in all enclosed environments including classrooms and other areas which require large gatherings of students in the schools.
Parents, students, teachers, and the general public are to note that the re-opening of SHS/T students remains on 4th April 2022 as indicated on their placement forms.
See the official release below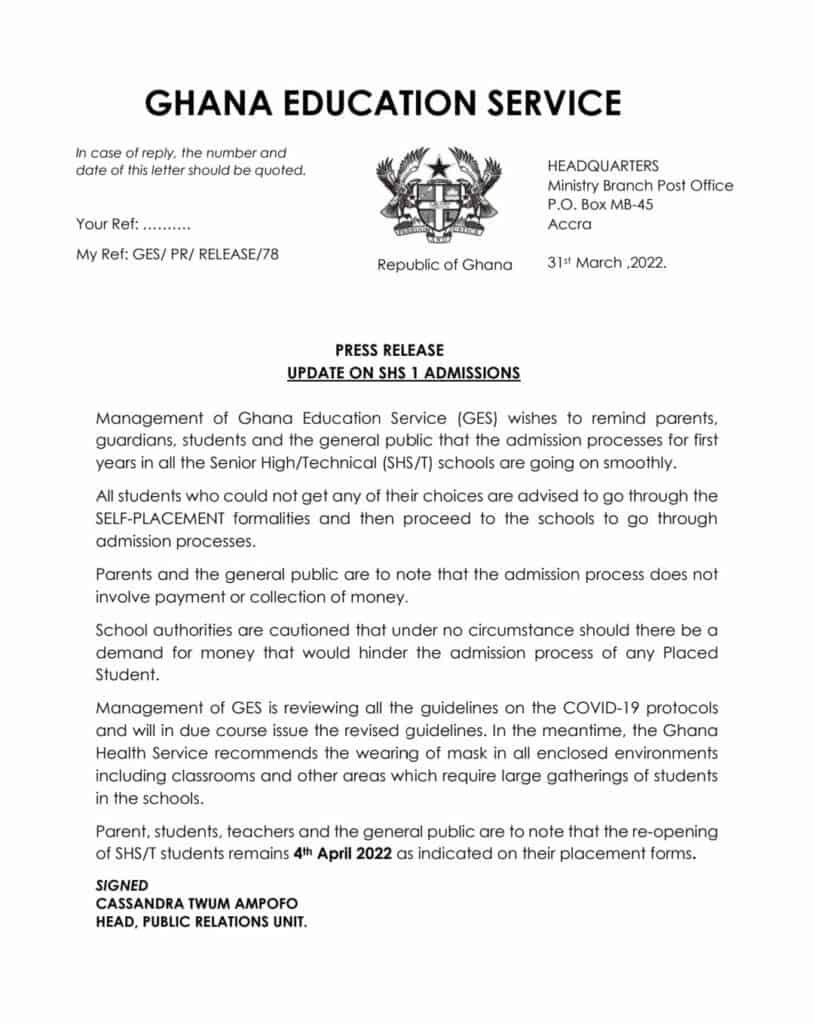 Recommended Post:
🎓Join BECE 2023 Preparation WhatsApp Group👉 JOIN HERE
🔥✔️ Join Our WASSCE 2023 Preparation WhatsApp Group👉 JOIN HERE
---
Thanks For Reading! Please share this post with your Family and Friends for them to also benefit.
Follow Us on Facebook ,Twitter and Instagram for More Updates!
Have an Article you want to be Featured on Our Site? Send it to [email protected]