How to Check JAMB Mock Score/Results for 2021/2022 – JAMB Portal
Jamb mock 2021 result checker, how to check my jamb mock result 2021, jamb mock result 2021 release date, jamb mock portal 2021, check my mock result 2021, is jamb mock result 2021 out?
Please kindly Share this Article on WhatsApp, Facebook and other Social Media Platform Using the Button Below. Thanks For Sharing🙏
These and many others are some of the search terms by candidates who have sat and wrote the 2021 JAM Mock examination.
If you are one of them, then this post is going to answers the above questions for you and also show you the steps by steps process on how to check your JAM 2021 Results.
is jamb mock result 2021 out
Yes the 2021/2022 JAM mock results have been released and candidates who have registered and sat for the exams can begin to check their results through the Joint Admission and Matriculation Board (JAMB) by following the below steps.
How to check jamb mock result 2021/2022
The JAMB results for 2021/2022 can be accessed through the JAMB official portal. The below steps take you through how to check your results.
The first steps are to get your PC or Smartphone and then go to JAMB Mock result checking portal through the link  https://www.jamb.gov.ng/Efacility
Once you are on the portal, you click on 'UTME 2021 Mock Results Notification Slip'
Now enter your JAMB Registration number or Email address/ in the required space provided as shown below.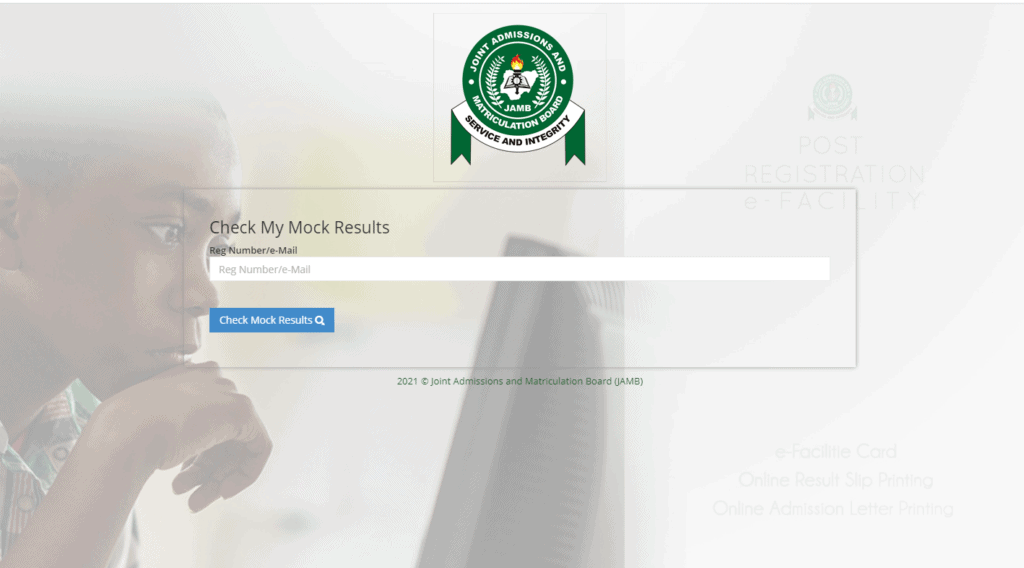 Finally, click on the 'Check Mock Results' button beneath to access your JAMB Mock Exam Score.
Congratulation! you have successfully checked your JAMB MOCK results for 2021/2022.
If you've scored a high Grade in the JAMB MOCK then you have tightened your belt once again to score high grades also in the Main exams.
But if your grade in the MOCK is not encouraging, then you need to put in much work to make a better grade in the main exams. You can read more on how to pass your exams and get high grades.
Will JAMB Mock Score Be Added To JAMB Final Result?
No, JAMB Mock score will not be added to your main results. The mock is only conducted to help you test your ability and also serve as a bench line your final results. The MOCK is also used to test the JAMB system towards the main JAMB Examination.
What Happens If I Miss JAMB Mock Exam 2021?
If you missed your JAMB mock exam you will still be allowed to sit for the JAMB 2021 Main exam. There have been some misconceptions regarding the Candidates who have missed their MOCK examination. Some are looking to know if they will still be allowed to sit for the JAMB UTME 2021 Exams if they couldn't write the MOCK. The answer is yes, the mock is just a trial and not a compulsory thing. you were not able to write the MCOK, you can still write the main JAMB 2021 exams.
 Can I Use My JAMB Mock Result For Admission In 2021?
No, the Mock results are just like your school terminal exams, It is used to test your ability before the main JAMB exams. If you passed the JAMB Mock exams, you will still have to sit and write the JAMB UTME 2021. Only the results obtained from the JAMB UTME 2021 can be used to apply for admission into tertiary schools.
Recommended Post:
🎓Join BECE 2022 Preparation WhatsApp Group👉 JOIN HERE
🔥✔️
Join Our WASSCE 2022 Preparation WhatsApp Group👉 JOIN HERE
---
Thanks For Reading! Please share this post with your Family and Friends for them to also benefit.
Follow Us on Facebook ,Twitter and Instagram for More Updates!
Have an Article you want to be Featured on Our Site? Send it to [email protected]