BECE 2021: When is The Starting Date For 2021 BECE Exams in Ghana?
When is the 2021 BECE Exams Starting in Ghana? What is the Starting Date For 2021 BECE? Is BECE starting in November 2021? What's the Exact Date for Junior high school student to start their BECE 2021 exams? When will JHS Students write their BECE this year? Which date will we write the exams? when is the paper starting?
Please kindly Share this Article on WhatsApp, Facebook and other Social Media Platform Using the Button Below. Thanks For Sharing
These are some of the questions that are always asked by the 2021 final-year students at the basic schools. Most of the BECE Candidates are eager to know the date for starting 2021 BECE so they can tighten their belts to sit up and learn.
NEW UPDATE ON When will BECE 2021 start in Ghana
Per the Timetable, the 2021 BECE Examination is expected to start on Monday 15th November 2021 to Friday 19th November 2021 with social studies and French being the first to be written. 
In that update, it was seen that the registration for the 2021 Basic Education Certificate Examination (BECE) For School Candidates is scheduled to commence from 15th March to 14th May 2021.
The document which accompanies the release went ahead to give the breakdown of key activities to be carried out.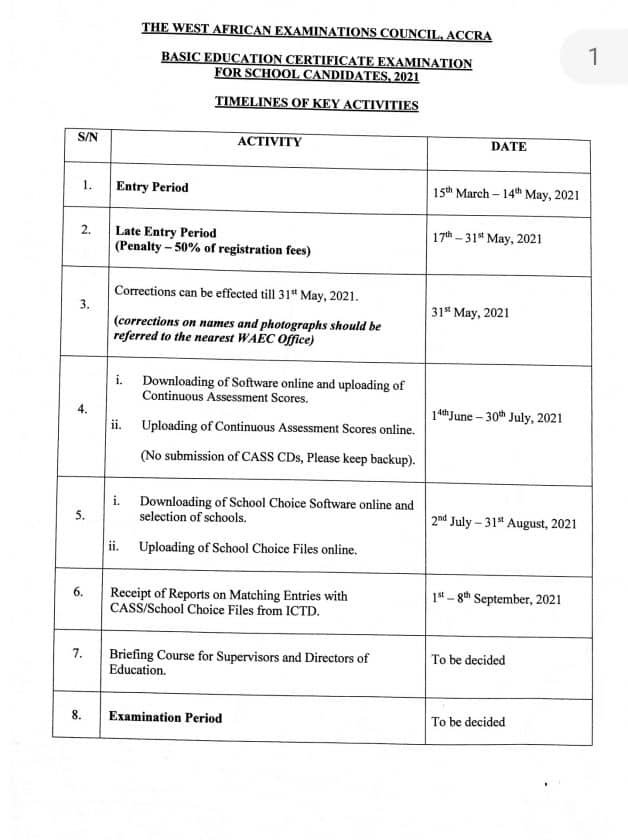 From the above document, one can see that the Receipt of Reports on Matching Entries with CASS/School Choice Files from the ICTD is scheduled to take place between the period of 1st – 8th September 2021. After which the Briefing Course for Supervisors and Directors of Education will come in.
From the information gathered the 2021 BECE Examination 'will' begin on 15th November 2021 during which all the preliminary activities might have been completed.
Stay tuned for more updates on when the 2021 BECE exams will begin. Save this page and always visit for updates. or Join our Telegram Page and be among the first to always get updated.
Recommended Post:
In other to continue receiving more news and update from us, we encourage you to Subscribe to OUR PUSH NOTIFICATION or JOIN TELEGRAM PAGE below this post for more these updates.
---
Thanks For Reading! Please share this post with your Family and Friends for them to also benefit.
Follow Us on Facebook ,Twitter and Instagram for More Updates!
Have an Article you want to be Featured on Our Site? Send it to [email protected]