The Management of Ghana Education Service wishes to bring to the Notice of all Regional Directors of Education, the General Public, and Students the released dates for the registration of the 2021 BECE for school candidates and timelines of Key Activities for the Examination.
A document sighted by our teams shows that the registration for the 2021 Basic Education Certificate Examination (BECE) For School Candidates is scheduled to commence from 15th March to 14th May 2021. See the official statement from the Document below.
ALL REGIONAL DIRECTORS OF EDUCATION
BASIC EDUCATION CERTIFICATE EXAMINATION (BECE) FOR SCHOOL CANDIDATES 2021
REGISTRATION OF CANDIDATES
The Registration of candidates for the BECE for school candidate, 2021 will commence from 15th March to 14th May 2021.
In view of the prevailing COVID-19 situation, the West African Examination Council (WAEC) could not organize its planned briefing of Metropolitan/Municipal/District Directors, Examination Offices, and IT personal.
In order to ensure that the officials are adequately equipped to handle the registration processes effectively and efficiently, the WAEC has prepared the enclosed materials (audio/visual notes on BECE for school candidates, 2021 registration) and the timeline of key activities to facilitate the registration process.
By this letter, Regional Directors of Education are requested to disseminate the information to the aforementioned Directors and Officers.
Thank you
PATTYE. ASSAN (MRS)
DIRECTOR, SCHOOLS, AND INSTRUCTION
For. DIRECTOR-GENERAL
cc: The Director-General, GES HQ, Accra.
The Deputy DIrector-General (MS), GES HQ, Accra
The Deputy-General (Q&A), GES HQ, Accra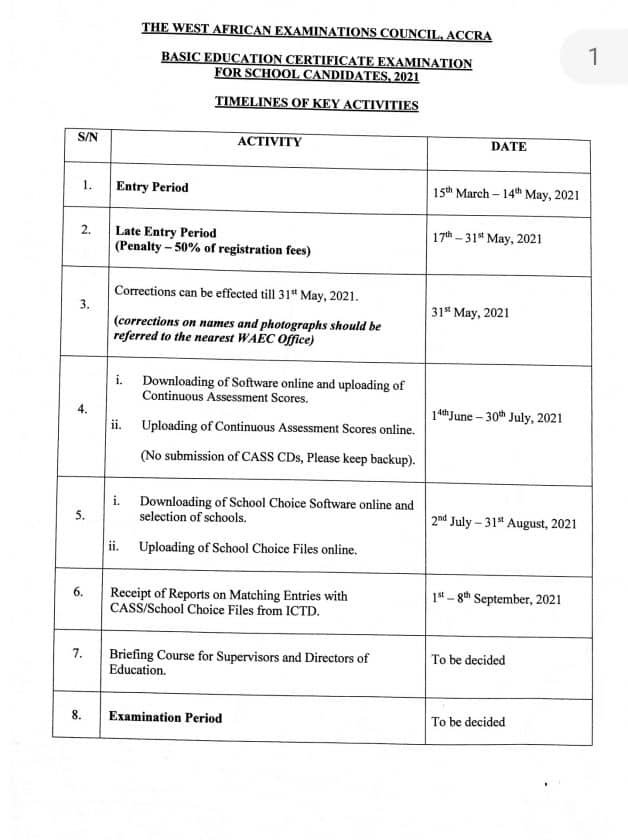 Recommended Post:
In other to continue receiving more news and update from us, we encourage you to Subscribe to OUR PUSH NOTIFICATION or JOIN TELEGRAM PAGE below this post for more these updates.
Please kindly Link Back to This Page When You Take or Paraphrase an Article From This Site. We SHALL Take Legal Action If YOU Failed To Do So. Thanks
---
Thanks For Reading! Please share this post with your Family and Friends for them to also benefit.
Follow Us on Facebook ,Twitter and Instagram for More Updates!
Have an Article you want to be Featured on Our Site? Send it to info@golearnershub.com