BECE 2022 Results Checker Now Out, Buy and Check Here
BECE 2022 Results Checker Now Out, Buy and Check Here: The West Africa Examination Council has announced the release of the 2021 BECE examination results today Monday 28th February 2022 for the school candidate.
Please kindly Share this Article on WhatsApp, Facebook and other Social Media Platform Using the Button Below. Thanks For Sharing🙏
Candidates who sat for the School Waec 2021 BECE can now access their results once via the Waec BECE Results checking portal.
In our earlier report, we showed you how to check your WAEC results using your smartphone and through mobile money.
In this article, we are going to show you how to buy the 2022 BECE Results Checker using a  simple dial-up shortcode.
To check the results, You need:
Phone or PC connected to the internet.
A web browser
Results Checker
With this method, you can get your results checker within the comfort of your home, and use it to check the 2021 BECE results.
How to Buy your 2022 BECE Results Checker the smart way
1st and Fastest Step
Dial *800*055# on your phone (All Networks)
Choose BECE 2022 Results Checker
Confirm the price and pay through Mobile Money
You will receive the result checker card via SMS with instructions on how to check the results.
Alternative 2
First Visit ResultsChecker.com.gh with your smartphone or PC
Choose the card type you want to buy. For BECE 2022 Results, Select the first option (WAECDirect Results Checker)
Enter the number of cards you want to buy and the amount will be automatically calculated
Click on "Buy Now"
You will be taken to a new screen where you enter your name and phone number (Card details will be sent via SMS to the phone number you enter here)
Click on "Proceed to Payment"
On the next screen, choose Mobile Money and enter your MoMo number. You'll be sent an OTP to confirm.
Confirm the payment on your phone.
Alternatively 3
First, open your phone dial app and dial the short code *899*783#
Now select option 1 in the popup menus (Waec)
Enter the Number of Card Needed (eg. 1 if you need only one BECE results Checker)
Confirm the price for 1 (GHS )
Then Enter your MoMo PIN to Approve
Wait for the transaction Notification
Your results checker will be sent to you via SMS on the Phone Number Used for the transaction
You can also retrieve your SMS at recoversms.waecg.org
You will instantly receive an SMS with the BECE Results Checker PIN and Serial and instructions to check.
How to Check Your Results After Buying the Checker
Visit https://eresults.waecgh.org and follow the steps in the Screen Below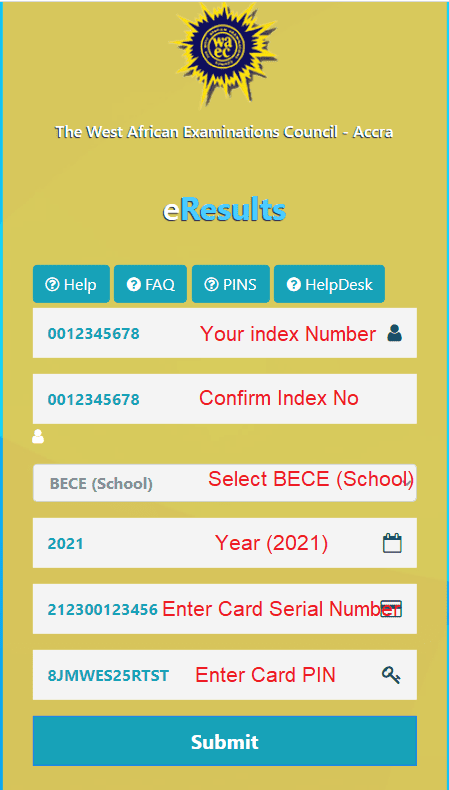 BECE 2022 Results Checker Now Out, Buy and Check Here, Buy and Check BECE Results, When will BECE Results Be OUT, Is BUY Cards Out, How to CHeck 2022 BECE Results, Why is BECE result not released, Will results be Out in February?
Recommended Post:
🎓Join BECE 2023 Preparation WhatsApp Group👉 JOIN HERE
🔥✔️ Join Our WASSCE 2023 Preparation WhatsApp Group👉 JOIN HERE
---
Thanks For Reading! Please share this post with your Family and Friends for them to also benefit.
Follow Us on Facebook ,Twitter and Instagram for More Updates!
Have an Article you want to be Featured on Our Site? Send it to [email protected]