GIS Aptitude Test Messages (SMS) Now Sent, See what to do if You've Not Yet Had Yours
GIS Aptitude Test Messages (SMS) Sent, See what to do if You've Not Yet Had Yours: In our earlier report, we made mention that, the Ghana immigration service aptitude test is scheduled to take place on Saturday 30th October 2021. We also made mention that, applicants should expect SMS from the Management starting Thursday night to Friday evening.
Please kindly Share this Article on WhatsApp, Facebook and other Social Media Platform Using the Button Below. Thanks For Sharing🙏
Now Information at hand indicated that the GIS Recruitment team has started sending messages to applicants who have qualified to write the aptitude test tomorrow.
Check out:
The SMS sent to these applicants contain the Venue for the aptitude test, document to submit at the exams centre, and other relevant requirements.
See the Official Content of the message below
Congratulations! Report to GOASO MIDWIFERY & NURSING TRAINING COLLEGE on Saturday, Otc, 30, 2021 at 6:00 AM for an aptitude test. Come with your confirmation PDF, PENCIL, or BLACK PEN. Good luck!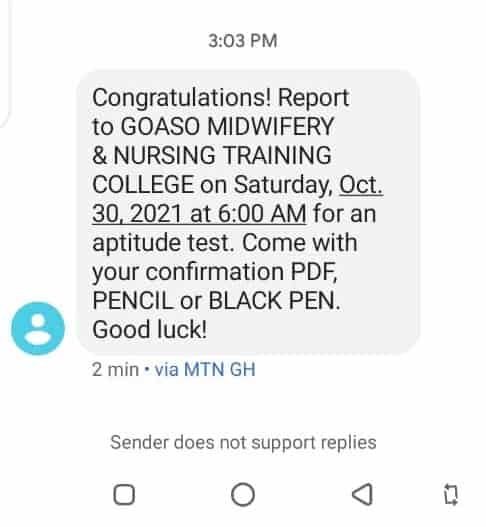 What to Do if You've Not Yet Had Your SMS?
If you've not had a message from GIS, you can check Here to see how to get your message.
The GIS recruitment team has just started sending the messages. This means the process will continue till tomorrow morning. All qualified applicants will surely be sent a text message for the aptitude test.
So if you are an applicant who has gone through the screening and has a firm belief that you'll qualify for the next stage, then you need to have some patience and wait as the message are currently being sent.
Give yourself time, By the close of the day, all applicants who will be writing the aptitude test will receive the messages. Stay tuned, as we keep updating you on the current happenings at the GIS recruitment.
Recommended Post:
🎓Join BECE 2023 Preparation WhatsApp Group👉 JOIN HERE
🔥✔️ Join Our WASSCE 2023 Preparation WhatsApp Group👉 JOIN HERE
---
Thanks For Reading! Please share this post with your Family and Friends for them to also benefit.
Follow Us on Facebook ,Twitter and Instagram for More Updates!
Have an Article you want to be Featured on Our Site? Send it to [email protected]