kNUST Application Deadline Extended, See How to Apply for 2020/2021 Admissions
it is announced for the information of prospective applicants and the general public that, the Sale of E-Voucher has been extended from Friday, 20th to Friday, 27th November 2020.
To apply for 2020/2021 Admission to study in KNUST, Applicants are required to purchase the application form through the following:
Points Of Sale: All Ghana Post Regional And Designated Offices
APPLICATION PROCESSING FEE
Ghanaian Applicants – Gh¢ 200.00.
Foreign Applicants – Usd 150.00.
Ghanaian Applicants Are Required To Purchase The E-Voucher From The Ghana Post Offices.
Applicants Are Required To Submit Two (2) Copies Of The Online Application And Other Relevant Documents.
You can also follow the steps below to purchase the form using MoMo.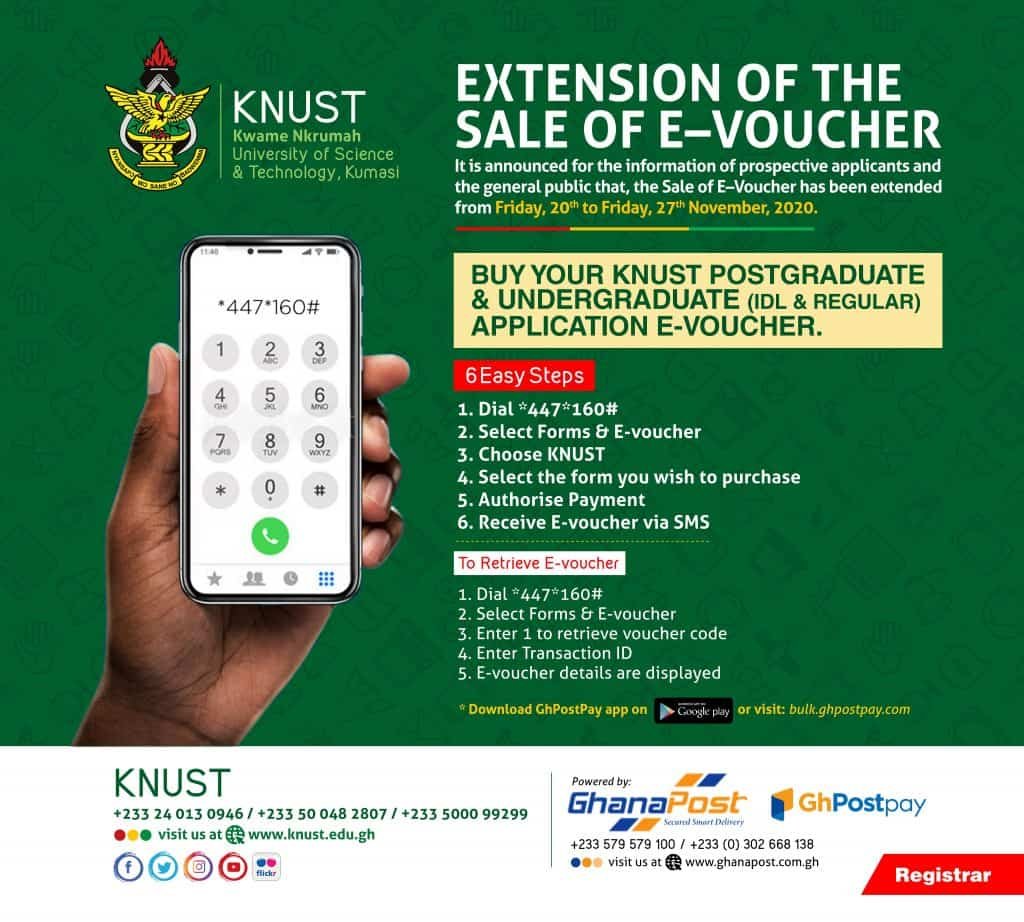 Foreign Applicants Are To Generate An E-Voucher From The University's Website And Follow The Instructions On How To Apply.
Foreign Application Processing Fee, May Be Affected Through Any Of The Following Accounts:
I) Bank: Ghana Commercial Bank Ltd
Swiftcode: Ghcbghac
Account No: 6031620000208
Account Name: Knust Forex
Ii) Bank: Ecobank Ghana Limited
Swiftcode: Ecocghac
Account No: 0211014402813701
Account Name: Knust Rapid Transfer Collection Account (Us Dollar)
Iii) Bank: Uba
Swiftcode: Stbghac
Account No: 02008315903213
Account Name: Knust Main Collection Account (Us Dollar)
All Completed Applications Should Be Submitted By Post (Ems/Dhl/Ups/FedEx) To The Deputy Registrar (Academic Affairs) Knust, Kumasi, Ghana On Or Before July 31, 2020.
Any Hand-Delivered Application Shall Not Be Processed.
Any Application That Is Not Fully And/ Or Properly Completed At The Time Of Submission Shall Not Be Processed And/Or Considered.
 Quick Links:
Applicants Should Take Note Of The Following:
Only Results And/Or Documents Provided By Applicants At The Time Of Submission Of Application Shall Be Considered.
Applicants (Excluding Awaiting Results Candidates)Shall Include In Their Application Forms Certified True Copies Of Their Results Slips And/Or Certificates.
Applicants Shall Include A Certified True Copy Of Their Birth Certificate
Applicants Shall Include One Passport Size Photograph With A Light Green Background, Which Must Be Endorsed
An Applicant's Failure To Input Examination Details (I.E. Index Number And Year Of Exams)And/ Or Other Relevant Information Properly Online Shall Deny The Applicant Admission To A Programme Of Study At The University
Admissions To All Programmes Of Study At The University Are Transparently Administered By The Central Undergraduate Admissions Board Without Any Other Considerations And/ Or Solicitations.
Recommended Post:
Please kindly credit or link back to the page when taking an article from this site. 
---
Thanks For Reading! Please share this post with your Family and Friends for them to also benefit.
Follow Us on Facebook ,Twitter and Instagram for More Updates!
Have an Article you want to be Featured Our Site? Send it to golearnershub@gmail.com