Update On 2023 School Selection and Verification Portal – Confirm Placement
Update On 2023 School Selection and Verification Portal – Confirm Placement
Please kindly Share this Article on WhatsApp, Facebook and other Social Media Platform Using the Button Below. Thanks For Sharing🙏
The Management of Ghana Education Service (GES) wishes to inform 2022 BECE candidates, staff, parents/guardians, and stakeholders that this year's school placement exercise begins with the verification of students' school choices.
The verification process is to ensure accuracy in students' choices of Information before they are placed in their selected second-cycle schools.
As part of measures to ensure a smooth Placement this year, the Computerized School Selection and Placement System (CSSPS) Secretariat has made available the choices of schools selected by the 2022 BECE Candidates through bulk SMS, USD messaging and online for verification and confirmation.
Parents, candidates, and teachers are to be informed, that a bulk SMS of the schools selected will be sent to the contact numbers provided by candidates during the school selection.
Candidates are to check and immediately notify their various Heads of schools of any error found for corrections to be made.
How to Verify Your School Selection 2023?
The management wishes to indicate that apart from the bulk messages that would be sent to all contacts, parents, and candidates can also dial *899* 888# and follow the instructions to verify choices made via USSD. In addition, the online portal option can also be accessed via https://csspsverify.com
Deadline /Closing Date For 2023 School Verification Process
The verification and confirmation commence on 14th January and end on 22nd January 2023.
Candidates should note that this is not a new process of school selection and therefore schools cannot be changed except if there is an error that needs to be rectified.
Parents, guardians, candidates, and the general public are to take note and act accordingly.
How to Correct Errors in the 2023 School Selection?
Students who may have errors in their initial selection should call 0556541525. or click on the edit button on the web portal after their selection details are displayed with a copy of the original selection. form.
Students can also send emails with a copy of the original selection form to [email protected] 
Please note that the exercise is NOT to Change schools but to confirm the initial choice selected.
Update On 2023 School Selection and Verification Portal – Confirm Placement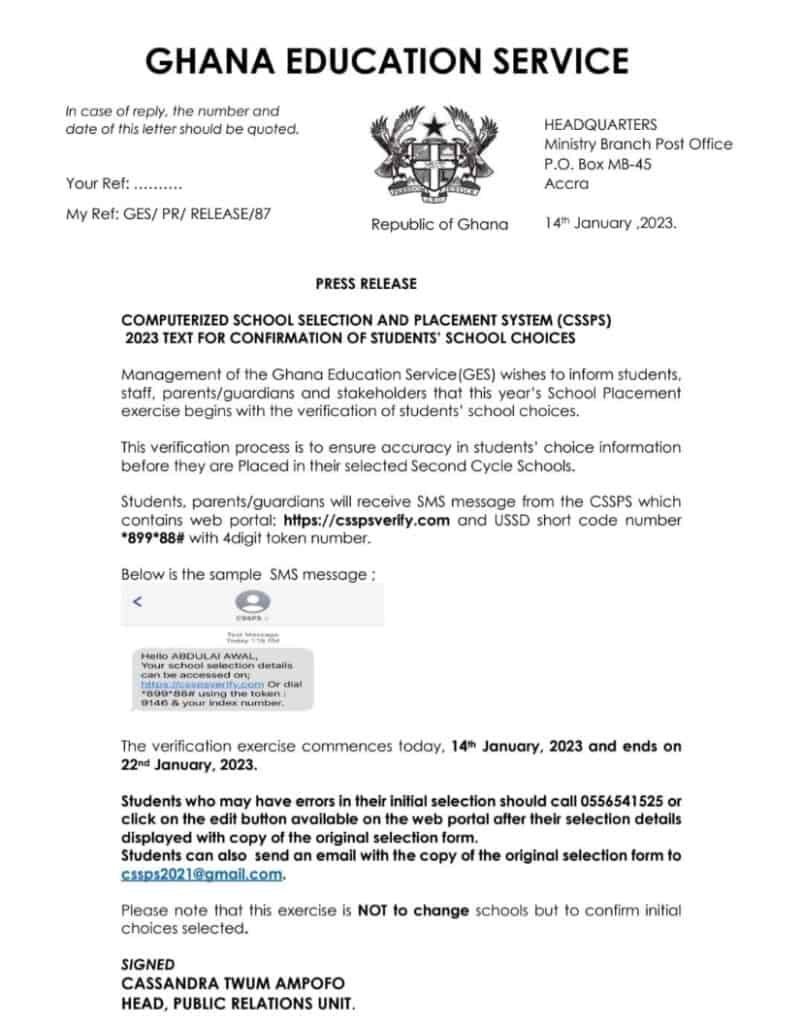 Recommended Post:
🎓Join BECE 2023 Preparation WhatsApp Group👉 JOIN HERE
🔥✔️ Join Our WASSCE 2023 Preparation WhatsApp Group👉 JOIN HERE
---
Thanks For Reading! Please share this post with your Family and Friends for them to also benefit.
Follow Us on Facebook ,Twitter and Instagram for More Updates!
Have an Article you want to be Featured on Our Site? Send it to [email protected]