GES Official Statement on the Postponement of SHS 3 Students Reopening Date
GES Official Statement on the Postponement of SHS 3 Students Reopening Date.
In our earlier update, we made mention that, the reopening dates for the SHS 3 students (Form 3) have been rescheduled to 5th May 2021.
We also mentioned that further updates on this postponement will be given out as and when there is an official statement from the Management of Ghana Education Service.
Now, the official statement regarding the postponement of the reopening date for the SHS 3 students has been released.
Find below the Official Statement from GES. 
Postponement of Reopening Date for SHS 3 Students
Management announces for the information of students, staff, and the general public that the reopening of form 3students has been postponed to 5th May 2021.
This is to give the forms 3 students an uninterrupted instructional period till they write their examination.
Ordinarily, the form 3 students were to have reported to school today 6th April, and be in school until 28th May 2021. They were then to have gone on vacation from 28th May to 29th June 2021.
The current arrangement, therefore, means that when the final year students report on 5th May 2021, they will be in school until they write their WASSCE.
Management of GES, therefore, considers this as the best option where the students will not break their instructional period and have their full 1,080 hours needed prior to the final examination.
Management sincerely apologies for the late communication of this new development.
Signed
Cassandra Twum Ampofo
Head, Public Relations Unit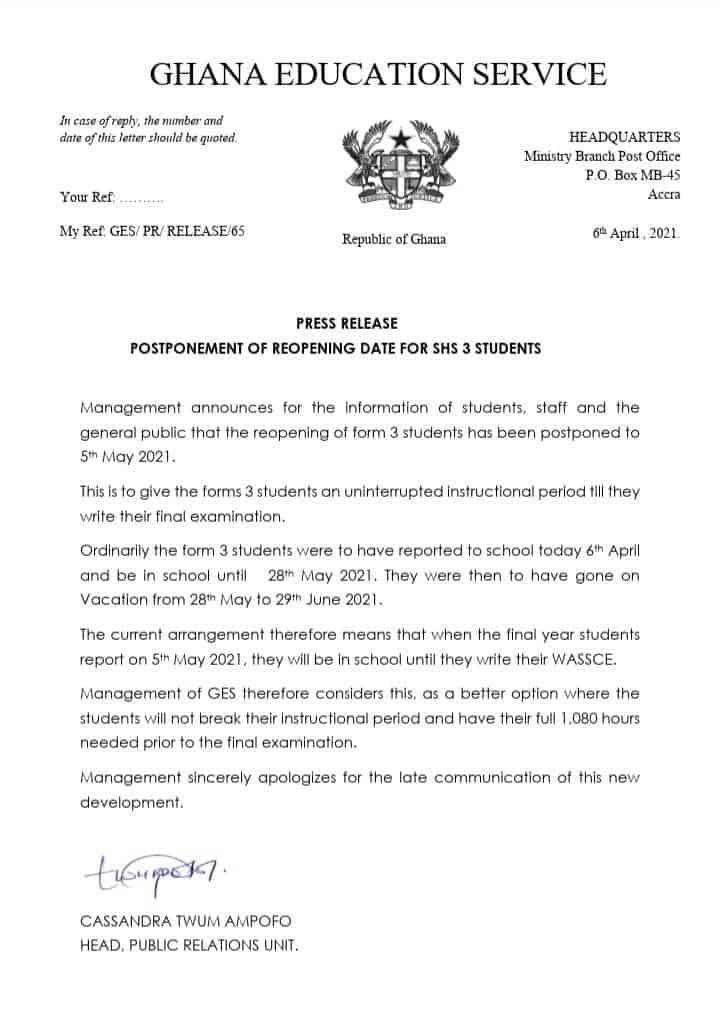 Recommended Post:
In other to continue receiving more news and update from us, we encourage you to Subscribe to OUR PUSH NOTIFICATION or JOIN TELEGRAM PAGE below this post for more these updates.
Please kindly Link Back to This Page When You Take or Paraphrase an Article From This Site. We SHALL Take Legal Action If YOU Failed To Do So. Thanks
---
Thanks For Reading! Please share this post with your Family and Friends for them to also benefit.
Follow Us on Facebook ,Twitter and Instagram for More Updates!
Have an Article you want to be Featured on Our Site? Send it to info@golearnershub.com