How to Make Money Online As a Graduate/Student Through Mobile Money
Making money online today is the goal of every graduate or student in Ghana, Africa, and the world at large. With the rise in the unemployment rate in Ghana, graduates and continuing students are always looking for the best ways to make money online.
Please kindly Share this Article on WhatsApp, Facebook and other Social Media Platform Using the Button Below. Thanks For Sharing🙏
In our previous post, we've discussed some cool ways to make money online. Among them are freelancing and content writing. But today, we are back with an interesting method that can make you some decent amount of cash online.
This is going to be possible through the newly established opera news hub platform. Opera Hub is a platform provided by Opera which is one of the world's major browser developers and a leading internet consumer brand.
The platform provides content creators with the opportunity to make money without owning a blog or a website. Through opera news hub, one can write any content of much value and make money from that write-up.
Opera News Hub has an easy-to-use interface and allows content creators to set up their online content in minutes.
The best part of this great editorial platform is that it pays its writers through mobile money on monthly basis. You don't need any bank account, pass through western union or PayPal before you can access your payment.
It is easy and simple to be an author on the opera news hub. All you need is to signup for an account and then you're good to go.
How to Signup for a Creator Account on Opera News Hub.
To signup for a creator account, you first have to visit the opera news hub platform through this link.
Once you are on the homepage of the opera news hub, you'll see two options. Login/Signup.
Now click on the SignUp button and you'll be given some options to choose from.
Click on Continue with Google.
Now, you'll be taken to the next page where you have to enter some details about yourself and your mobile money account. Fill in the required information and then finished up the Registration process.
Once you're done with the registration process, you'll have to wait for the opera hub team to review your account for approval.
After your account has been fully approved, you can begin to write content and build your readership.
Make sure to write the content of high values, since that's what can get you more readers and clicks.
Once you are able to establish credibility on the platform, you'll get more readers, clicks, and impressions on your articles and this means more money.
Opera news hub pays its writers every month and they do so through mobile money. So if you really want to make some cool cash online, then you should put in more work and write as much as you can for more clicks and impressions.
Below is the screenshot of the latest opera news hub payment to the top earners for June.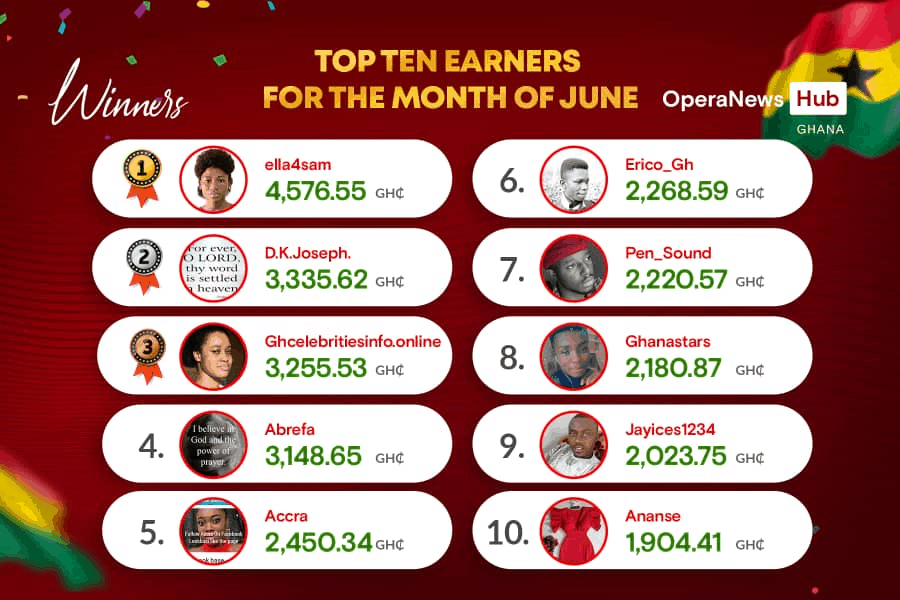 Recommended Post:
🎓Join BECE 2022 Preparation WhatsApp Group👉 JOIN HERE
🔥✔️
Join Our WASSCE 2022 Preparation WhatsApp Group👉 JOIN HERE
---
Thanks For Reading! Please share this post with your Family and Friends for them to also benefit.
Follow Us on Facebook ,Twitter and Instagram for More Updates!
Have an Article you want to be Featured on Our Site? Send it to [email protected]