Check BECE 2023 School Placement – www.cssps.org
The 2023 SHS Placement for the BECE 2022 graduates has finally been released on 15th February 2023. In an official statement sighted, the Management of Ghana Education Service (GES) announce to the general public the release of Senior High School Placement for the 2023/24 academic year.
Please kindly Share this Article on WhatsApp, Facebook and other Social Media Platform Using the Button Below. Thanks For Sharing🙏
"PRESS CONFERENCE ON THE RELEASE OF COMPUTERIZED SCHOOL PLACEMENT 2023 BY GES AND TVET SERVICE ON WEDNESDAY,FEBRUARY 15,2023."
This means the current BECE graduates who have just had access to their results can begin to check their placement starting today 15th February 2023.
The Placement shows the students the school he or she has been placed in and therefore needs to get ready to report to the school.
How to Buy Placement Checker on Phone with Mobile Money
Visit ResultsChecker.com.gh with your smartphone or PC
Choose the card type you want to buy. eg: CSSPS Placement Checker
Enter the number of cards you wish to buy, and the amount will be automatically calculated
Click on "Buy Now"
You will be taken to a new screen where you enter your name and phone number (Card details will be sent via SMS to the phone number you enter here)
Click on "Proceed to Payment"
On the next screen, choose Mobile Money and enter your MoMo number. You'll be sent an OTP to confirm.
Confirm the payment on your phone.
You will instantly receive an SMS with the BECE Results Checker PIN and Serial and instructions to check.
How to Check BECE 2023 School Placement Using Phone & PC
On your Phone or PC, open your browser and visit the CSSPS result checker online portal OR https://www.cssps.org/
Once you are on the page, you first have to purchase the placement checker by selecting that option found on the CSSPS.
You can also Buy the Placement Checker card Using the MTN MoMo service.

Note: Each Voucher is GHC and can be used an unlimited number of times by a single student.
After getting the placement Checker, you can now select the check Placement Option on the CSSPS site.
Proceed to enter your BECE index number.
The Index Number (10 digits) and then enter your year of examination.
For example, if your index number is 1234567890 and the year of your examination is 2022, this is what you will input: 123456789022.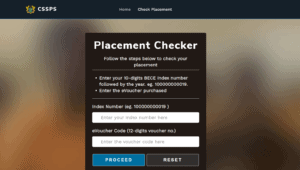 Now Enter the Serial number and the PIN (Personal Identification Number) that are found on the E-Voucher Purchased.
Click submit to proceed to see your placement school.
Please be patient and wait for the school placement window to pop up. If you are successful, the CSSPS placement checker print form option will appear.
Click on print to print out your form. Congratulation, you've successfully been checked for your 2023 School Placement. From here, you can proceed to pay your school fees and then wait for the reporting date.
Check BECE 2023 School Placement – www.cssps.org. How to Check BECE 20223 Placement For SHS Using Phone & PC. You can subscribe to our push notification or save this page for a quick update when the placements are uploaded on the CSSTP. Thank You.
Recommended Post:
🎓Join BECE 2023 Preparation WhatsApp Group👉 JOIN HERE
🔥✔️ Join Our WASSCE 2023 Preparation WhatsApp Group👉 JOIN HERE
---
Thanks For Reading! Please share this post with your Family and Friends for them to also benefit.
Follow Us on Facebook ,Twitter and Instagram for More Updates!
Have an Article you want to be Featured on Our Site? Send it to [email protected]