How to Pay Your UPSA Fees Using Mobile Money or Debit/Credit Card
Wondering how to make payment to the University of Professional Studies, Accra this festive season without visiting the bank? If yes, then worry not because the management of UPSA has made it simple for their students to pay school fees in the comfort of their homes. This is so through the use of mobile money payment.
Please kindly Share this Article on WhatsApp, Facebook and other Social Media Platform Using the Button Below. Thanks For Sharing🙏
In this we are going to discuss how to pay UPSA fees via Mobile Money, Credit or Debit card.
You can pay the fees at the comfort of your home using your mobile wallet and phone. Follow these simple steps to make your UPSA fees payment.
To start with, you need to have access to the internet and visit this link interpayafrica.com/upsa. You'll be taken to the UPSA student login page. Here, Enter your Student Index Number and Password to continue.
Once you are login, you'll be given the option to select your payment method. In this section, you can choose to pay with Mobile Money using MTN MoMo, Vodafone Cash and AirtelTigo Money or pay with your Debit/Credit card.
If you choose to pay with Mobile Money, you will be required to provide your mobile number in other to process your payment and when you choose Debit/Credit Card, you will be required to provide your card details.
Follow these four simple steps outlined on the flyer to purchase your admission application e-vouchers via Mobile Money.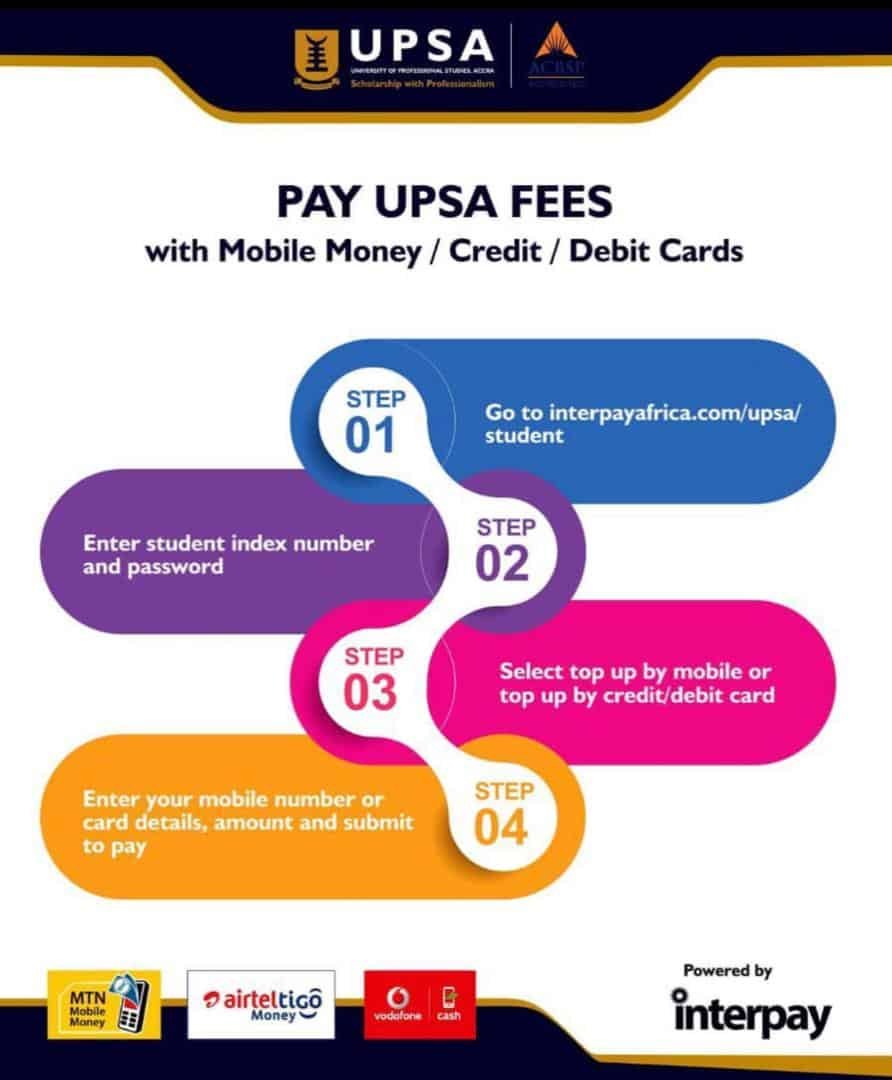 Freshers and Continuing students can also use same method to pay their fees and proceed to register.
Recommended Post:
🎓Join BECE 2023 Preparation WhatsApp Group👉 JOIN HERE
🔥✔️ Join Our WASSCE 2023 Preparation WhatsApp Group👉 JOIN HERE
---
Thanks For Reading! Please share this post with your Family and Friends for them to also benefit.
Follow Us on Facebook ,Twitter and Instagram for More Updates!
Have an Article you want to be Featured on Our Site? Send it to [email protected]