NABCO APP: How To Download, Login & Solve Failed to Clock in Issues
The Nation Builders Corps (NABCO) program is a Government of Ghana initiative to address graduate unemployment to solve social problems. The focus of the initiative will be solving public service delivery in health, education, agriculture, technology, governance and drive revenue mobilization and collection by equipping NABCO Trainees with the skills needed for the job market.
Please kindly Share this Article on WhatsApp, Facebook and other Social Media Platform Using the Button Below. Thanks For Sharing🙏
To ensure that the KPIs(Knowledge, Punctuality, and Integrity) of NABCO are achieved, a mobile application is developed and each trainee is supposed to download and use to improve the monitoring and evaluation processes at NABCO Secretariat. The Mobile App has the following features:
Clock-In and Clock-Out: This feature is used to track attendance of Trainees by using the specified coordinates of the agency a NABCO Trainee has been assigned to.
Training Courses: It is mandatory for NABCO Trainees to enroll into training courses in their skills development. The specific number of courses are to be taken within the course of the month of assessment.
Report Submission: It is mandatory for NABCO trainees to complete the periodic status report on their activities by providing information on a task assigned, task completed and task pending.
Haven seen some of the features and sections which are found within the app is time for us to see how to download and install the app. The Nabco App is developed to serve two operating system users (Android and iOS). These two are the most widely used OS by many trainees and for that matter, if you are on other OS, you may not find the app on the store.
How To Download The Nabco App
Just like any other Android and iOS apps, to install the Nabco app, you'll need to open your Google store or AppStore.
Once you open the store, you tap on the search bar and then search for the Nabco app. you can also tap on the below links to go to the download page for the app.
Android Download               iOS Users Download
Now, once you tap on the app, you will see the install button. Click on it to install the app.
After successfully installing the app, the next thing to do is to open.
Now once the app is opened, you will be displayed with the login page. Here, you'll be asked to enter your Username and password.
NB: the username is your NABCO REFERENCE Number and the Password is the password you used to register for NABCO at the initial stage:
Once you enter the right information, you'll be login into the app. On the main app page, you will see four sections: clock in, clock out, News and Report. Here, your mission is to clock in and clock out.
To clock in, you have to make sure your device location is first Turned ON, Then Tap on the Clock in button on the app. If everything goes well, you will see a successful clocked in message.
Now that you are clocked in, what you need to do is to minimize the app and then continue with your normal activities at the workplace. Once you are ready to go home, you then open the app and now tap on the clock out button to clock out.
You're expected to do this each and every day when you go to when and after work.
How to Solve failed to Clock in / Opps, Something went wrong issue
Many trainees have lodged a complaint on most of the Nabco platform that, they always get an error message when they try to login or clock into the app.
As a trainee, there are two things that may cause this kind of error or problem you are currently facing with the app. The first one may be due to Location Off, or Wrong Nabco Reference Number or Password.
To solve this issue, you are advised to first make sure that, your Device Location is Turn ON before trying to login to the app.  If you have your Location ON and still could not able to log in to the app, it means your issue has to do with a wrong username or password.
Here what you need to do is to make sure you use the correct Login details. In most cases, it is the password that has the problem since the Nabco Reference is easily accessible by every trainee.
Now, if your issue is about the password, what you have to do is to open the Nabco login page on your web browser and then go to forget password. here, you will be required to enter your email.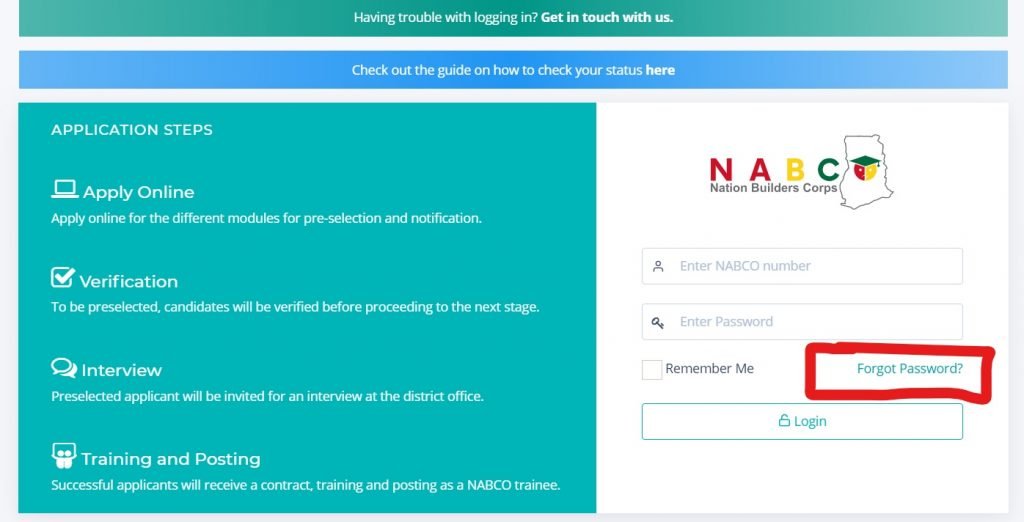 This email is the one you used to register for Nabco. If you can't remember your email, you can check your application letter, your letter of engagement or assumption of duty form and you should see that email on any of these forms.
After getting the email, you enter it into the required field and then request a password reset. Now a reset link will be mail to you on both the email and your Phone Number. Once you get the link, click on it and then you will be taken to a page where you can now change the password.
From here, you can go back and open the Nabco App and then continue to login using your Reference Number and the New password created.
Once everything goes well, you can now have access to the clock in and out page and from there you can go ahead continue with your daily exercise.
I've done all these but still cant clocked in, what should i do?
Once you have all the above in place and you are login to the app, there may be instances that your app still fails to clock you in. In this case, the clock in process will continue to load with feedback "Please Wait".
When you experience this situation, there are two things you can do.  You either check your internet connection or if you are under shade, that's if you are in the room, you're advised to go outside the room and try again. Most devices can not log in once they are in the room since their GPS Locator is not strong to get the location when you're in the room.
My Area Has No Network Connection, How can i Clock In?
Many trainees also complaint that, their workplace has no network and for that matter, they can't log in to the device not to talk of a clock in. If you are one of such trainees, then we suggest you do this simple thing.
First, make sure you have a nearby location where there is network connectivity and then login. once you are logged in, then move to your workplace and then click on the clock in button. In this case, the app will get you feedback that error occurs, don't worry. According to a source, once you click on the clock in-button, you'll be clocked in even if you have no network connectivity. The app will pick in your coordinates offline and auto-updates them once you have access to the network connection.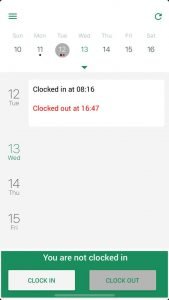 Final Words: If you're a trainee on the NABCO programme and you still find a problem with the Clock in and Clock out issues, then we hope this article will be of help to you. Please note that, as a matter of Disclaimer, this article is not an official article from the NABCO team, The article is written based on the author's opinions and personal experience with the NABCO app and some of the solution found by the users after using the app for the few days.
Thank you for reading. Please if you find this article helpful, consider sharing to reach more trainees. You don't know who might need this help.
Recommended Post:
🎓Join BECE 2022 Preparation WhatsApp Group👉 JOIN HERE
🔥✔️
Join Our WASSCE 2022 Preparation WhatsApp Group👉 JOIN HERE
---
Thanks For Reading! Please share this post with your Family and Friends for them to also benefit.
Follow Us on Facebook ,Twitter and Instagram for More Updates!
Have an Article you want to be Featured on Our Site? Send it to [email protected]