NABCO: How to Easily Login to Your Portal without Any Challenge
For those of you who have tried to login to your NABCO portal recently, you may notice that there are some changes to the way you used to login to the website. Trainees using the Google Chrome browser gets this strange notice:
Your connection is not private

Attackers might be trying to steal your information from apply.nabco.gov.gh (for example, passwords, messages, or credit cards).
NET::ERR_CERT_DATE_INVALID"
or 
Your clock is ahead

A private connection to apply.nabco.gov.gh can't be established because your computer's date and time (Sunday, May 16, 2021 at 5:15:22 PM) are incorrect.
NET::ERR_CERT_DATE_INVALID
The above alerts are a result of some changes on the NABCO website server.
See, the interaction between a website's server and the browser passes through protocols (secure connection and none secured connection).
Websites using an SSL are deemed to be secure whiles those without SSL certificate installed on them are not.
"S
SL Certificates are small data files that digitally bind a cryptographic key to an organization's details".
When an SSL certificate is installed on a web server, it activates the "Padlock" with the "https" protocol which allows secure connections from a web server to a browser.
"Typically, SSL is used to secure credit card transactions, data transfer, and logins, and more recently is becoming the norm when securing browsing of social media sites."
Earlier, NABCO has an SSL certificate installed on their server and hence the site is seen as a secured one by the chrome bot.
But along the line, it seems the SSL certificate has expired and then this all issue of "Your connection is not private" begins to pop up.
How to Login without Worrying about the Notice
There are different browsers you can use to login to the NABCO website, but most trainees preferred to used Google Chrome since that's the most recommended browser for many.
To tell you, The Chrome browser is actually the best and most secure browser if you are concern with your online security.
So using the browser, you visit the NABCO website as you used to do by typing the URL: https://apply.nabco.gov.gh in your browser.
Now, you'll be displayed with the below alert,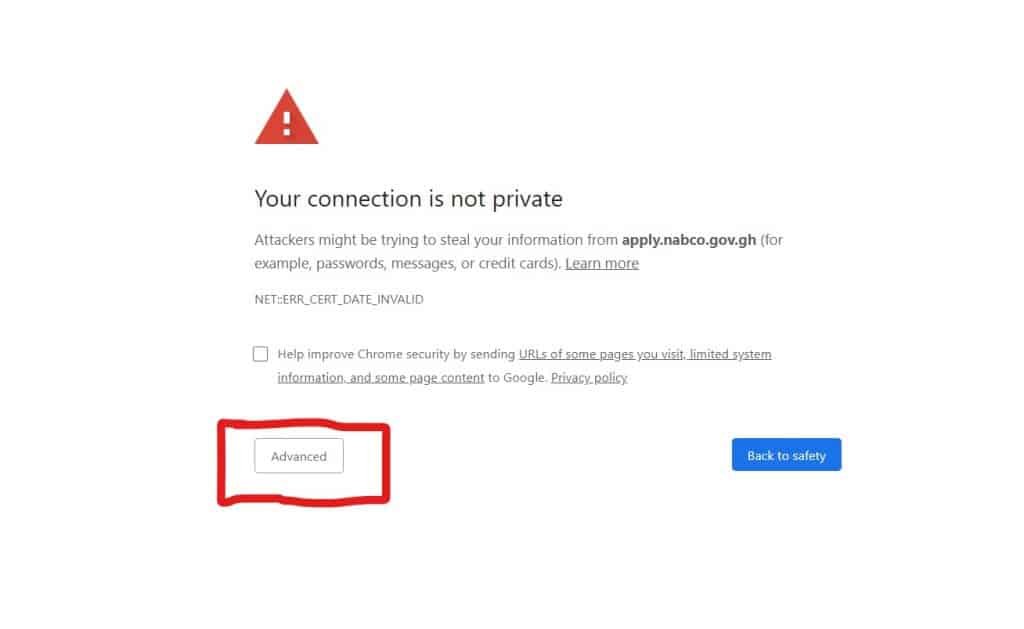 Here, what you have to do is to look below the "Your connection is not private", you'll see Advanced. Tap on the Advanced.
Now another guide will be open explaining why you get such an Alert. Just scroll down and you'll see "Proceed to apply.nabco.gov.gh (unsafe)". 
Tap on it and then you are good to go. You should be able to login into your portal without a problem
How to solve the problem using Mozilla Firefox
First, visit the NABCO portal address through this link
Now you will see the screen below.
Click on the advanced button and then click on "Accept the Risk and Continue". 
Now you'll be taken to the login page. Here you can then login using your NABCO Reference Number and the password.
Other Alternatives
The other way to login without passing through the above steps is to get a different browser say: UC browser or Opera Mini Browser or Mozilla Firefox.
Visit the NABCO website using these browsers and you shouldn't encounter this problem. That's all.
Hope this is helpful. Leave your comment below if you still have some challenges you may want us to address.
Recommended Post:
In other to continue receiving more news and update from us, we encourage you to Subscribe to OUR PUSH NOTIFICATION or JOIN TELEGRAM PAGE below this post for more these updates.
Please kindly Link Back to This Page When You Take or Paraphrase an Article From This Site. We SHALL Take Legal Action If YOU Failed To Do So. Thanks
---
Thanks For Reading! Please share this post with your Family and Friends for them to also benefit.
Follow Us on Facebook ,Twitter and Instagram for More Updates!
Have an Article you want to be Featured on Our Site? Send it to [email protected]