NABCO: You Cannot Launch YouStart When Our Allowance are in 8 Months Arrears
YOU CANNOT LAUNCH YOUSTART WHEN NABCO ALLOWANCES ARE IN EIGHT (8) MONTHS ARREARS
Please kindly Share this Article on WhatsApp, Facebook and other Social Media Platform Using the Button Below. Thanks For Sharing🙏
With immense displeasure. NABTAG seeks to apprise government of the horrible state of affairs gripping NABCO trainees, erupting out of unpaid allowances for eight (8) months, much less the unspecified arrangement for our absorption into sustainable jobs.
The operational mechanism of the scheme, as long as acquisition of job readiness skills and experience are concerned, objectively qualifies for us to commend government for envisioning the initiative. However, the prevailing circumstances pertaining trainees welfare do not cast a bright image over our prospects.
Since the directive was divulged up until now, trainees have been dutifully reporting to work with no pay for the past eight (8) months, which amounts to a serious National Security threat as a nation. We do appreciate the ongoing processes aimed at enrolling section of trainees on to the yet-to-be-launched YouStart program, but we are pleading with government to pay the arrears due the disgruntled trainees because we are suffering.
It does not send the right signal when you have not paid NABCO trainees for the past eight (8) months, which has plunged them into severe hardship, but readying for the launch of YouStart. What positive assurance can that serve to inform the public on the outlook of the YouStart?
The president's nonchalant attitude over the current situation is disparaging to its lowest point. We have placed several calls on him to intervene, but the issue keeps exacerbating.
We humbly implore GES to consummate its processes in offering permanent appointments to Educate Ghana Trainees. The data collection exercise has been hanging for too long with no positive outcome. Information reaching me indicate that Ghana Revenue Authority is provisionally cushioning its trances. We hope that the step taken will culminate in permanently placing them.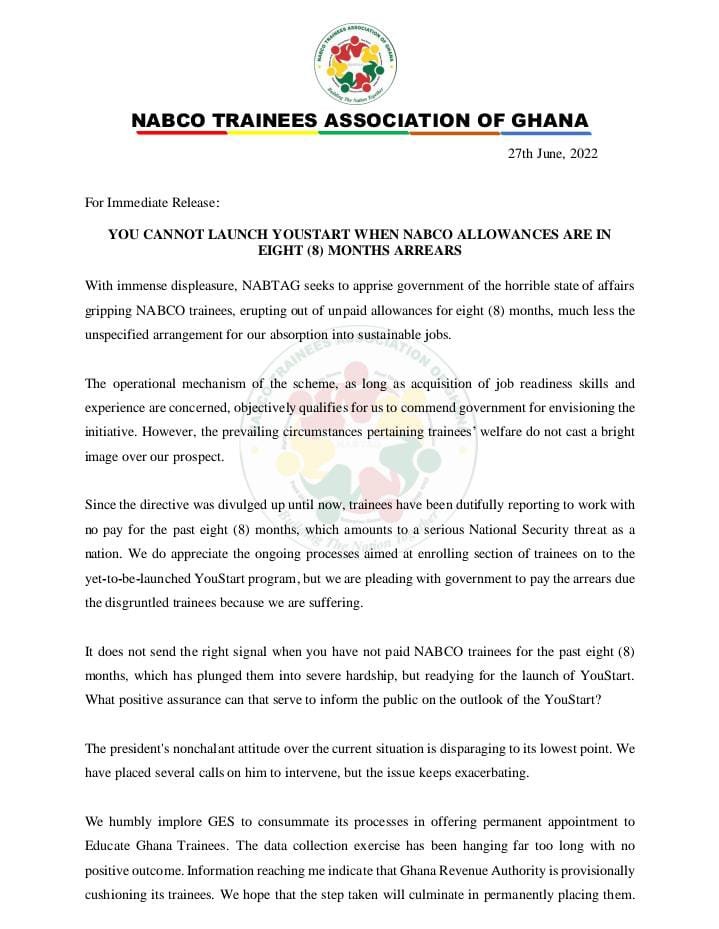 Recommended Post:
🎓Join BECE 2023 Preparation WhatsApp Group👉 JOIN HERE
🔥✔️ Join Our WASSCE 2023 Preparation WhatsApp Group👉 JOIN HERE
---
Thanks For Reading! Please share this post with your Family and Friends for them to also benefit.
Follow Us on Facebook ,Twitter and Instagram for More Updates!
Have an Article you want to be Featured on Our Site? Send it to [email protected]