Nabco Skills and Talent Academy: How To Login and Start a Course
The Nation Builder's Corps (NABCO) is designed to be a work and learning program. According to the Nabco Team and module implementors, so far the program has fully achieved the work placement obligations and currently executing the other aspects of learning to add up to the workplace practical skills and values. The value-added component of the scheme would be achieved via:
Please kindly Share this Article on WhatsApp, Facebook and other Social Media Platform Using the Button Below. Thanks For Sharing🙏
Guaranteed work placement
Continuing training and learning, as well as
Exposure to a range of special projects; all aimed at enhancing the future employability of the trainees.
According to NABCO Implementors, The NSTA will be used to deliver learning and human capital development tools for skills; upskilling & reskilling of talents. These skills development tools in addition to the trainee's workplace practical skills acquired are to enable every trainee to transition through the following exit pathways:
Retention: Pursue employment with current NABCO employment provider or seek employment elsewhere using sector skills developed,
Entrepreneurship: Pursue the establishment of a business as an entrepreneur,
Further Learning:  Pursue focused further learning to lead to other future careers
The NSTA portal is accessible only by NABCO trainees and for that matter, trainees are supposed to use their NABCO Email for the registration of the portal.
How To Create A NABCO Email
There are many Email providers that one can get his or her Email from, but the officially recognized one is an email provided by Google(GMAIL).
In this Discussion, we are going to use the Gmail account to create the NABCO Email.
I know by now most of you know How To Create A GMAIL Account. But for the sake of this training, we assume you don't know and we are going to start from scratch to create the account.
To create a Gmail account, you first head over to gmail.com on your browser (either on Tablet, Phone, or PC)
Now, you will be taken to the Gmail homepage if this is your first time visiting Gmail.com. But if you already have an account, you'll automatically be signed in to your Gmail account.
In that case, you have to either Logout of the already existing account or Add a New account.
Now, once you find yourself on the Gmail homepage, the next thing is to click on the Create Account Button.
From here, you'll be taken to the signup page where you fill in all the required details on the signup form. NOTE: The username is going to be your NABCO REFERENCE NUMBER as illustrated in the below image.
Once you finish with the form, you scroll down and you'll see the Terms and Condition page. Click on the Accept button to finish with the account creation.
You Have Successfully Created Your NABCO EMAIL.  Now Let's Go To The Nsta Page To Starting Learning.
How To Login To The Nabco Skills and Talent Academy 
Type Http://Academy.Nabco.Gov.Gh/ In Your Web Browser & You Will Be Taken To The NSTA Homepage
Once You Are On The NSTA Homepage, Click On The Login Button To Login To Your NSTA Account.
Once You Click On The Login Button, You Will See The login page. Fill In The Required Info And Click Login. NB: Use Your NABCO Portal Login Details Here.
Once You're Logged Into The NSTA Platform, You Will See The Available Modules With The Recommended Courses.
Select Your Module To Access Recommended Courses For You On The Academy.
Here, Select A Course Of Your Choice To Proceed To The Next Page (SWAYAM).
On The Course Overview(swayam Page) Click On Join Or SIGN-IN/REGISTER If Join Is Not Available, To Register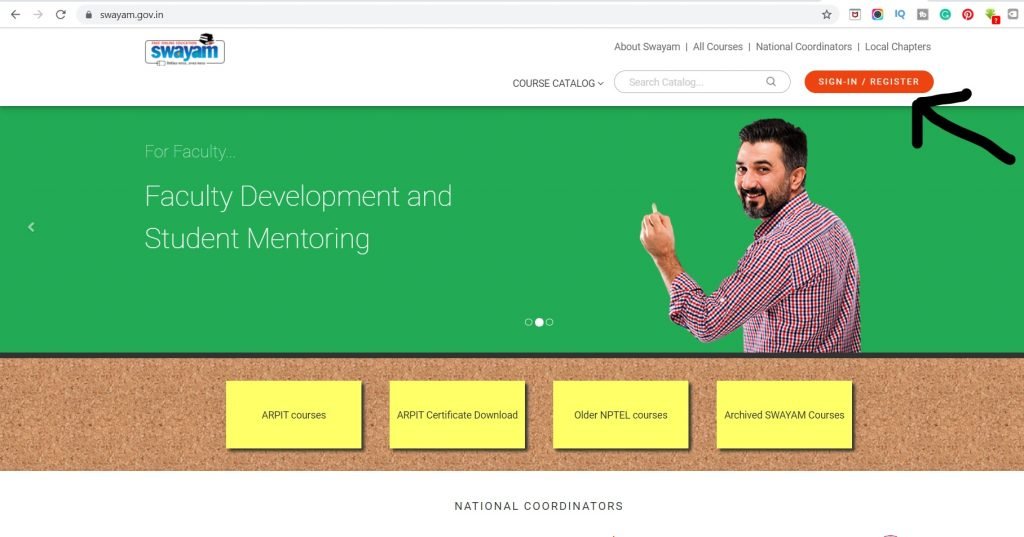 Once You Click On Sign In/Register, You Will Be Redirected To A New Page.
At Login, Click On Google And Enter Your NABCO GMAIL Credentials You've Created.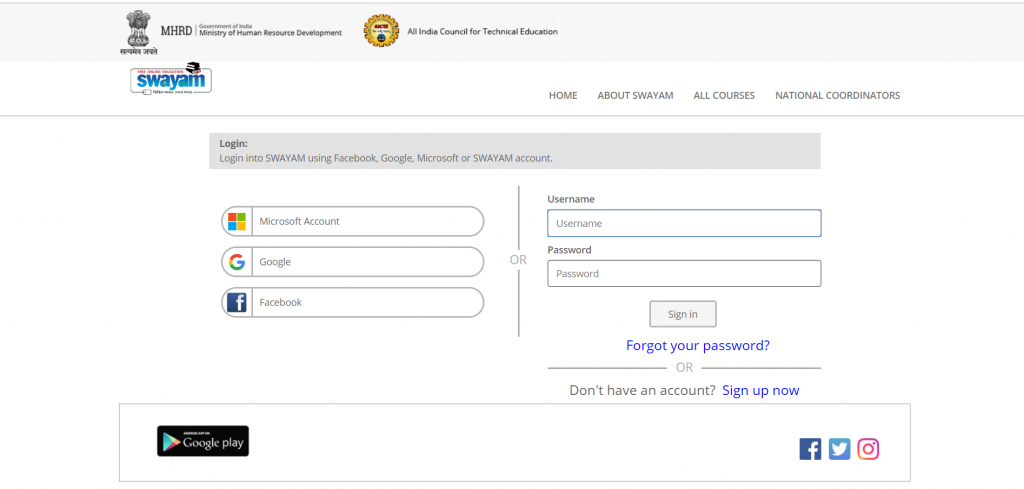 Once You Enter The Correct Nabco Email Credentials, You Will Be Login To The SWAYAM Platform.
Now That You Are On The SWAYAM Platform, You Can Click On The Course Catalog To Choose The Courses Available For Enrollment.
Here, You'll See The Upcoming (Enrollment Open Courses) & Ongoing (Enrollment Close Courses)
Choose A Course From Upcoming (Enrollment Open) And JOIN To Begin Your Learning On The SWAYAM Platform.
Fill The Details. Caution Choose Yes For (Part Of A SWAYAM Local Chapter?) And Ghana-India Kofi Annan Centre Of Excellence In ICT, Click On Update Profile And Join Course.
Congratulations, You Have Successfully Joined A Course On The SWAYAM/NSTA Platform.
To See All Your Enrolled Courses, You Click On Your Account And Select "My Courses"
That's all. From here you can start learning from the NSTA/SWAYA Platform. Hope you find this article helpful, If you do, please don't forget to share with your friends and family to also benefit and login to the Nabco Skills and talent Academy Platform.
Recommended Post:
🎓Join BECE 2023 Preparation WhatsApp Group👉 JOIN HERE
🔥✔️ Join Our WASSCE 2023 Preparation WhatsApp Group👉 JOIN HERE
---
Thanks For Reading! Please share this post with your Family and Friends for them to also benefit.
Follow Us on Facebook ,Twitter and Instagram for More Updates!
Have an Article you want to be Featured on Our Site? Send it to [email protected]