NABCO Career Pathways Skills Training and Learning : How to Fill & What's Expected?
The NABCO trainees career pathways portal is now up and running fully with little to no downtime. This means trainees are now having a smooth registration on the NABCO portal.
In filling in the portal for the permanent jobs, there are a series of tabs trainees are required to fill before submitting their application for the Permanent job, entrepreneurship, and further learning.
For the past weeks, we've discussed a lot about the career pathway portal, making things clearer to trainees who have difficulties filling in the form.
Among them is how to solve the Educational Tab and other sections of the portal not saving after your details' successful entry.
Today, we will look at the Skills Learning and Training aspect of the Portal, what does that mean, and what's required of you as a trainee when filling in the portal.
The Portal's NABCO skills and Training tab is found under the CV Section of the Career pathways tabs. This Sub tab contains three subheadings:
 NABCO Skills Training and Learning
 Training (Non-NABCO)
 Licenses and Certificates
Most trainees have a "wrong" understanding of these three subheadings. They have some cross-sectional misunderstanding of the part which this article seeks to clarify for all trainees.
 NABCO Skills Training and Learning:
Here trainees are instructed to List training and learning activities they completed as part of NABCO's development initiatives. This means trainees should provide the courses ad training completed from the NABCO learning platform (NSTA).
Earlier this year, the NSTA was introduced as part of the NABCO's development initiatives. All trainees were directed to log in to the platform and take a course.
Now, this tab is asking trainees to provide the Title of Training they've undergone, the Facilitator's name, Online or Physical, start and end date for the training and learning.
In filling in this part, trainees will have to log in to the swayam portal and get the above details from the courses registered.
If you're a trainee and have attended any other self-development training organized by NABCO, you can also list them as part of the NABCO Skills training and Learning.  See how to log in to NSTA and Take a course on the swayam platform.
 Training (Non-NABCO):
Trainees are also given the option to List training and learning activities they've completed, which was not organized by NABCO. Here, you are required to provide any extra training you partook on your own.
For instance, if during the course of the NABCO program, you've undertaken a private course on personal development, web design, communication, and information skills, you can list them as part of the Non-NABCO training.
 Licenses and Certificates:
Here, you can List licenses, professional certificates, or NSTA certificates. University degrees or degrees obtained through formal education should be listed separately under the "Education and Work Experience" tab.
Assuming you've completed any professional course in say CIMA, ACCA, ICA, e.t.c. and have a certificate in that, you can list them under this tab. As mentioned, certificates obtained from the university should be listed under "Education and Work Experience."
If you don't have any professional certificates, you can scroll down, select none, and then add and proceed to save.
See below the sample of the completed section of the NABCO Skills and Training Tab of the Career pathways portal.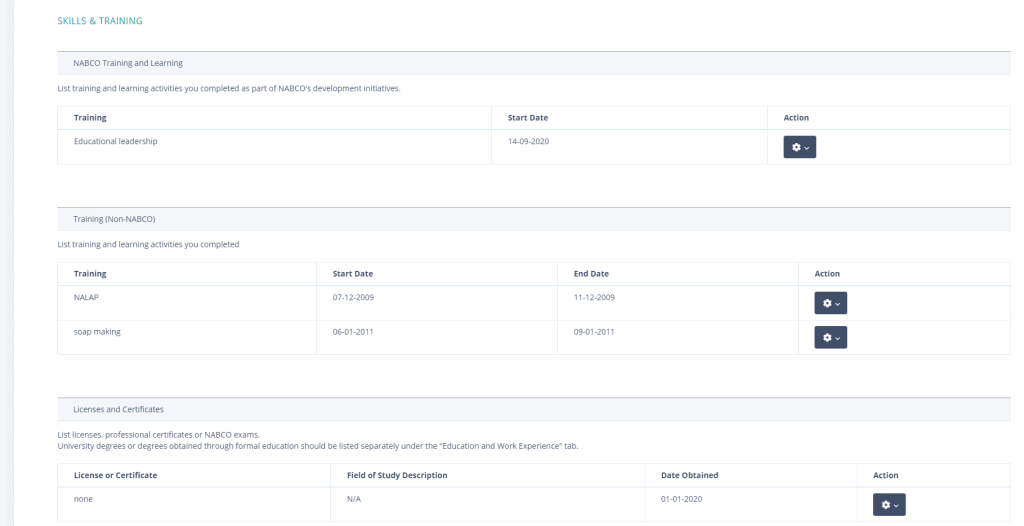 Recommended Post:
In other to continue receiving more news and update from us, we encourage you to Subscribe to OUR PUSH NOTIFICATION or JOIN TELEGRAM PAGE below this post for more these updates.
Please kindly Link Back to This Page When You Take or Paraphrase an Article From This Site. We SHALL Take Legal Action If YOU Failed To Do So. Thanks
---
Thanks For Reading! Please share this post with your Family and Friends for them to also benefit.
Follow Us on Facebook ,Twitter and Instagram for More Updates!
Have an Article you want to be Featured on Our Site? Send it to [email protected]