Nabco: June Allowance Dully Paid. You May Load your Funds Now
Last week, we made mention that, the Nabco June stipend validation was ongoing and that, trainees should expect their stipends anytime soon. After such a pronouncement, most trainees became happy, hoping to get a payment alert from NABCO.
As of Monday 6th July, GHiPSS, which is a Sole Payment institution took to their page to announce the payment of Youth in Afforestation allowance.
A trainee with NABCO made a comment regarding when NABCO trainees will be paid. Ghipss replied that trainees with a positive answer. After such confrontation, we got to know that, trainees' stipends will be paid this week.
This morning, most trainees have started receiving their payment alert for the June stipends and we wish to inform our cherished readers about that.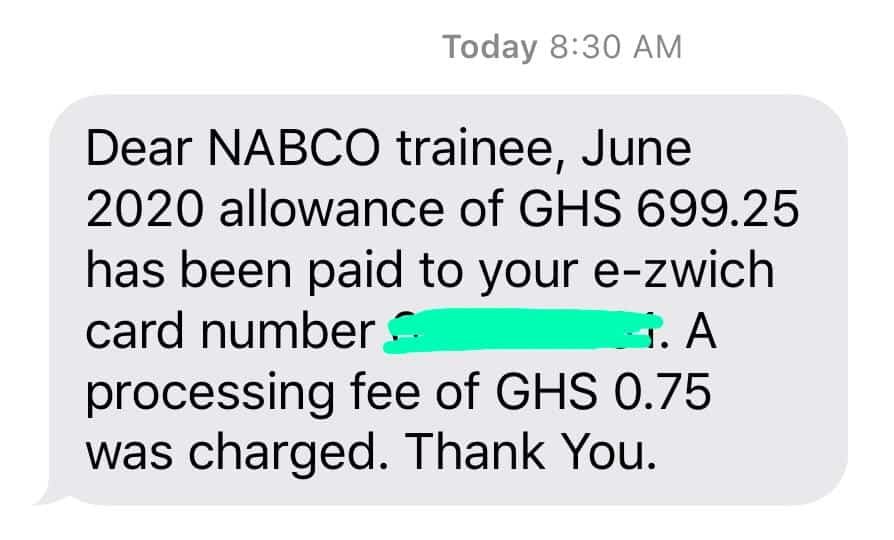 We do so because not all trainees will get a payment alert even though they've been paid.
So if you are a NABCO trainee, who's eligible for June payment, but have not yet received a payment message, then you can go to check your E-zwich card.
Recommended Post:
In other to continue receiving more news and update from us, we encourage you to Subscribe to OUR PUSH NOTIFICATION or JOIN TELEGRAM PAGE below this post for more these updates.
Please kindly Link Back to This Page When You Take or Paraphrase an Article From This Site. We SHALL Take Legal Action If YOU Failed To Do So. Thanks
---
Thanks For Reading! Please share this post with your Family and Friends for them to also benefit.
Follow Us on Facebook ,Twitter and Instagram for More Updates!
Have an Article you want to be Featured on Our Site? Send it to [email protected]